2014: Currents Retrospective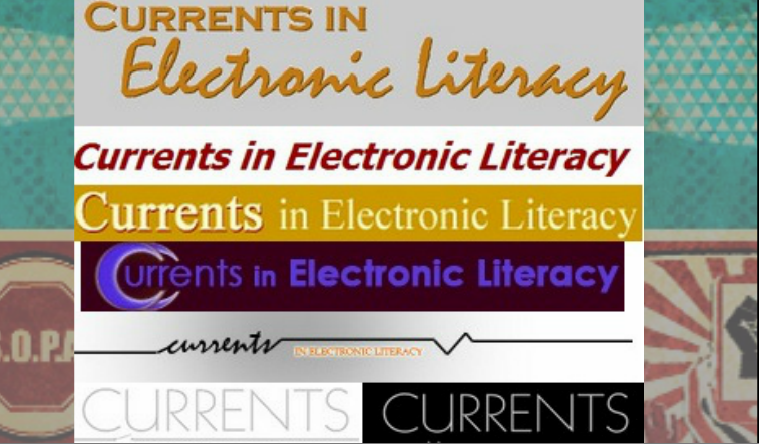 The first issue of Currents, published to the web in the fall of 1999, featured four articles on the integration of emergent digital technologies into classrooms. Currents did not initially focus exclusively on university contexts, for education technology was such an innovative concern that secondary and university level educators collaborated on how to best incorporate digital resources into pedagogical contexts. Currents editors and authors focused on how devices and networks could be used as learning tools, and in doing so they encountered the essential issues of conceptualizing the digital medium and defining the necessary terms to describe tools and their applications for students and teachers in writing classrooms focused on the study of both literature and rhetoric.
The drift of Currents is unique in that it traces the evolution of digital teaching and scholarship from these inchoate beginnings in the late 1990s when the terms themselves were in flux (e.g. "hypermedia" vs. "multimedia") through the late 2000s, when descriptions of digital mediums and methods of interaction were increasingly taken for granted. In the earliest issues, the manner in which individuals could use and communicate the use value of technology was itself a site for critical contemplation, intervention, and speculation, whereas the challenges facing pedagogical users in an increasingly connected (and, conversely, an unwired but thoroughly digitized) world arose as the existence of these technologies and their general adaptation in the classroom became increasingly assumed. The first article whose title assumes readers would comprehend the concept of a "blog," for instance, appears in 2005.

It is unsurprising that the subject matter of Currents reflects the increasing currency of technological terms and practices. Issues of more universal accessibility, personal and collective rights, and the specific boundaries and features of an increasingly mapped and populated digital landscape shifted the focus of Currents editors and writers toward more specific concerns beyond essential questions of technological innovation and adaptation. Furthermore, the journal exhibits traits of its own disciplinary location. Early issues emphasize hypertext literature and the teaching of literature whereas later issues primarily feature critical and theoretical rhetorical scholarship.
Ultimately, this journal serves as an archive preserving not only the changing intellectual interests of those involved with Currents, but also the larger narrative of digital rhetoric.