Share
home

PLAY:

Giving Up the Ghost &
The Mixquiahuala Letters



CONNECTed Voices



Chicana/Latina Studies &

This Bridge Called Cyberspace
SHARE
As a new assistant professor teaching at a small, liberal arts university, I shifted my attention to building sites to benefit my students. Class syllabi and links to interesting sites slowly became a database project titled Literary Voices. Although well intentioned, the idea of building a resource for my Chicana/o and Latina/o literature students was more complex than I understood. Access to print-based information was limited by intellectual property issues and convincing authors to share their work online was difficult.
The problems were complex. Since I completed my dissertation, the number of Chicana/o web sites has shrunk; important and well known sites are not being updated. Knowing not to complain unless I was doing something to solve the problem, I started work on a B.S. in Computer Science in 2002. As I gained the computer skills, I envisioned building This Bridge Called Cyberspace(see below), a searchable database of publications already in print by and about people of color and other social-identity groups.
In 2007, I offered to build a database and upload the issues of the peer-reviewed Chicana/Latina Studies journal. By August of 2008, I had completed both my BS and the searchable database, which is accessible online and includes full-text access. The site is the basis for the larger project to link multiple publications using This Bridge Called Cyberspace.
In the winter of 2008, I began work on the larger project ThisBridgeCalledCyberspace.net. Once construction and testing is completed, This Bridge will provide online accessibiliy and search capabilities for print-based publications by women, people of color, and other social-identity groups. During the summer of 2009, I plan to upload the archive of La Voz, over 20 years of monthly newsletters.
Thanks to the sincere support of Dr. John Slatin, my broad vision has continued to develop. I will always be grateful that he taught me to make my own connections and to reach for tools to clarify my own vision; and I hope this helps others to see the significant contribution he's made and continues to make through all of his students. The effect of his contributions continue to flow out from what he created through his students and then on through their students, building an endless bridge for generations to come. What a legacy...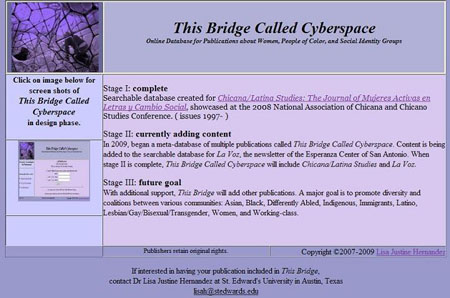 Lisa Justine Hernandez is an associate professor of University Programs at St. Edward's University in Austin, Texas. During the 2009/2010 academic year, she will be a visiting professor in the Department of Chicana/Chicano Studies at Loyola Marymount University in Los Angeles, California.
home

PLAY:

Giving Up the Ghost &
The Mixquiahuala Letters



CONNECTed Voices



Chicana/Latina Studies &

This Bridge Called Cyberspace