Play
home

PLAY:

Giving Up the Ghost &
The Mixquiahuala Letters



CONNECTed Voices



Chicana/Latina Studies &

This Bridge Called Cyberspace
PLAY
My first digital creation was a 1994 Macromind Director project of the play
Giving Up the Ghost by Cherríe Moraga.
In 1995, I used Ana Castillo's experimental episotolary novel The Mixquiahuala
Letters to create a HyperCard stack of paths already delineated by the author. (Click to see more screen shots of Giving Up the Ghost stack)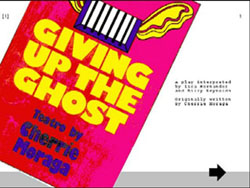 About the 1994 interactive project:

I learned to use Macromind Director as a teaching assistant for both Dr. Slatin and Dr. Yacov Sharir, a professor of Theater. I was helping them explore the tool while they were working on a 3-D virtual body project. Macromind Director was an earlier version of Macromedia Director Shockwave Studio that used sprites/objects and actions that could be assigned to objects. Objects and actions were laid on a linear timeline and made to enter and exit the stage of the screen. Once I understood the tool, John helped me envision how to apply it to Chicana literature.
At the time, the class was reading Donna Haraway's "A Cyborg Manifesto," which talks about Cherríe Moraga's Loving in the War Years. I almost immediately thought about my favorite play Giving Up the Ghost by Cherríe Moraga and how Macromind Director seemed like a perfect tool for theatrical application. John's enthusiasm helped fuel my obsession to create.
The project was based on Giving Up the Ghost by Cherríe Moraga. The play focuses on the memories and current life of Marisa, a woman in her late twenties. Marisa is joined by Corky, Marisa's younger, angry, adolescent self and Amalia, Marisa's lover. Because in Marisa's memories past and present exist simultaneously, the three characters are aware of what the others are saying and thinking despite the distance of time and space.
I remember explaining the play to John; he asked questions, allowing me to come to my vision. I decided to explore how the play's configuration provides a great opportunity to express temporal and spatial differences in a non-linear, interactive manner. Although the pages of the book are confined to a specific order, the Macromind Director presentation of the play illuminates the play's fluid representation of memory by providing a non-linear, non-sequential hypertext where viewers can explore the overlaps and discontinuities that the play embodies.
I created reader-based paths through Giving Up the Ghost by providing readers the option of rearranging the timeline, although I divided the play into separate sprites of distinct scenes and ordered them linearly as in the play. To signal the option of non-linearity, I created a bent arrow image and programmed it to go to a random scene remaining in the unused cast of objects. I programmed the dynamic actions in Lingo, the scripting language packaged with Macromind Director. Once finished, I noticed only the flaws, but this is where John's larger picture appeared. Because of his positive support and endless encouragement, I saw past my critical self and self-doubts to view the project as the playful and creative experience it was. Such joy fueled my obsessive nature and future projects.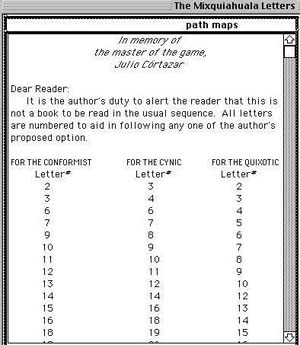 About the 1995 project:
In a graduate course with Dr. Slatin, we read about hypertext theories and explored hypertext projects produced on Storyspace and HyperCard, two early hypertext programs. I noticed several essays about Latin American male authors whose writing was used by hypertext aficionados as examples of hypertextual writing. The work of Jorge Luis Borges and Julio Cortazar became models and content for hypertext visionaries like Stuart Moulthrop, John Slatin, and George Landow.
I was looking for Chicana literature that could provide a base for my class project. Imagine my surprise as I re-read The Mixquiahuala Letters by Ana Castillo and noticed the dedication, "In memory of the master of the game, Julio Cortazar." Like Julio Cortazar's Hopscotch, Ana Castillo had written her book as a nonlinear text "not a book to be read in the usual sequence." Then, as with all light bulb moments, the assigned readings from John's class took on new meaning. Before this, I had noticed a lack of Chicana voices, whereas now I felt I had a direct connection from Chicana writing to electronic texts.
Castillo's work included a reading map that offered three narrative orders: conformist, cynic, and quixotic. My task became simplifying the reader's ability to read non-linearly, because it seemed unlikely that a reader would flip back and forth between a letter and the path map guide at the front of the novel; after all, I had never thought to do so myself. So, I created a HyperCard stack that provided an automated map function. A reader could read as a conformist, a cynic, or a quixotic person without losing the narrative unity caused by flipping to the map.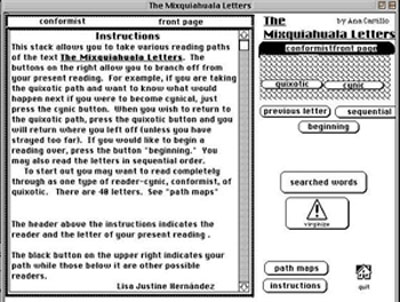 However, I realized the existence of a network of possibilities between the three paths; they were intertwined. My project grew to illuminate a reader's experience of the text, how a person can shift identification when a particular letter causes them to question conformity and to become a cynic.
I used HyperCard to program the 48 letters of Castillo's book into a network of connected nodes. I used HyperCard because it was easier to use than Macromind Director was and unlike Storyspace, it came with its own scripting language. HyperCard was a program used to create hypertext cards that could be linked to other cards in the stack. To create reader-based paths, I provided readers the option of exiting a card both linearly and non-linearly. This required creating buttons that I programmed to allow readers to branch off from their present reading style.
home

PLAY:

Giving Up the Ghost &
The Mixquiahuala Letters



CONNECTed Voices



Chicana/Latina Studies &

This Bridge Called Cyberspace