Learn
home

PLAY:

Giving Up the Ghost &
The Mixquiahuala Letters



CONNECTed Voices



Chicana/Latina Studies &

This Bridge Called Cyberspace
LEARN
As I continued to look for examples of Chicana literary texts that would help me develop ideas for my dissertation, I found a rich source, This Bridge Called My Back: Writings by Radical Women of Color, a groundbreaking anthology of women of color feminist writing edited by Chicana feminists Gloria Anzaldua and Cherríe Moraga in 1981. The project began as a way of tracing the continued influence of This Bridge as a model of a transformative and multicultural text for Chicana feminist literature. I hoped to find examples of the other Chicana literary texts that connected multiple voices of feminists of color, a nod to coalitional politics. Although the anthology, co-edited by two Chicanas, is often cited as an example of Chicanas' ability to cross borders, I could not find any examples of individually authored Chicana texts that could be called multicultural or that held promise as a hypertext model.
I remember expressing my dismay to Dr. Slatin, who was co-chair of my dissertation. While Dillon, his faithful guide dog, healed my emotional anxiety, John's academic healing sent my naive expectations in another direction. We talked about why I thought text-based literature might have influenced what I found in my research. Because of this, I turned my attention to the World-Wide-Web as an emergent medium with promise for community building, a way for Chicanas to represent a much needed space to develop on their own AND a way to connect to sites created by other communities to demonstrate solidarity and recognition of difference. Finding few sites by Chicanas, I expanded my project to look at all sites by women of color. CONNECTed Voices became the fourth chapter of my dissertation, Chicana Feminist Voices: In Search of Chicana Lesbian Voices from Aztlán to Cyberspace.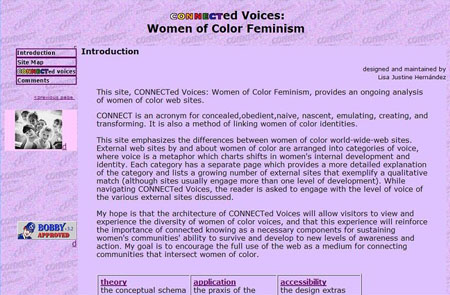 Begun in 1996 and ending in 2001, the web-chapter contained over 300 files. My hope was that the dissertation web site would help advance my goal of a network of sites that could connect women of color and transform isolated political ideas into a shared sense of possible coalitions. I categorized the sites into seven voices: concealed, obedient, naive, nascent, exposing, creating, and transforming.
However, I had bigger problems in getting my dissertation chapter in the public discourse. Published as a digital dissertation, in 2001 I submitted PDF, html, and images as required by the University of Texas at Austin. It wasn't until 2007 that it was brought to my attention that UMI, the publishers of Dissertation Abstracts International had only included the PDF file. The web chapter, CONNECTed Voices is not available through UMI, which may come as a surprise to the libraries that bought copies. According to UMI, there is nothing they can do about it. In hindsight, I should have put the site on my own domain and linked to it from the PDF file.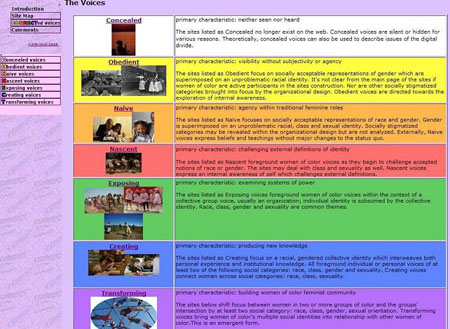 (Click to see more screen shots of CONNECTed Voices)
home

PLAY:

Giving Up the Ghost &
The Mixquiahuala Letters



CONNECTed Voices



Chicana/Latina Studies &

This Bridge Called Cyberspace